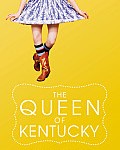 Ricki Jo is determined to move from a plain old country girl into popular, sophisticated Ericka when she starts 9th grade at her local public high school. She figures there will be lots more opportunities at the larger school than the small, Catholic school she attended through 8th grade.
Right away she makes friends with a few popular girls and she feels she has to start changing to keep up with her new group, particularly since good-looking David Wolfenbaker (Wolf) hangs out with them too. As she morphs into "Ericka 2.0," she begins to wonder if she can keep what she likes most about her old self while also becoming someone different.
The Queen of Kentucky by Alecia Whitaker will resonate with anyone who has ever felt the desire to change her circumstances. Ricki Jo is a down-to-earth girl who is best friends with her neighbor Lucas and who spends time working to help out around her farm, even if she doesn't feel like it. Ericka wears more stylish clothes, studies hairstyles and advice columns in Seventeen magazine, and will do things she's uncomfortable with if it means going along with the crowd.
It's not easy for her to keep up: her new friends are wealthier than she is, which means they spend money more freely on clothes and entertainment. Ericka goes back and forth between feeling like she's making friends and feeling like they're making fun of her. Plus, she finds herself ignoring all the crass remarks Wolf makes just because she's dazzled by his good looks.
As she navigates the halls of her high school, Ricki Jo makes some mistakes, but she also gets a better feeling for what's important to her. I liked that each of the characters was nuanced, and didn't fall into a stereotype. Wolf has a lot of bad points, but Ricki Jo can also see some of the good points and vulnerabilities he tries to hide. Some of her new girlfriends seem shallow much of the time, but they also show they're capable of being there for her when times are rough.
While the outcome at the end of The Queen of Kentucky may not be a mystery, the journey to get there goes down as easy as a glass of ice tea on a hot day. Ricki Jo is a protagonist you can root for, identify with and ultimately cheer on. I recommend it for mother-daughter book clubs with girls aged 13 and up.
The publisher provided me with a copy of this book for review.