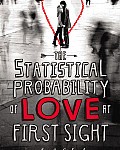 Hadley dreads the trip she is making to London to be in her father's wedding. But when she misses her flight there by four minutes, she's rebooked on the next flight, where she meets Oliver. As they talk over the Atlantic Ocean, Hadley feels a connection to him that is stronger than to anyone she has felt before. Could her four-minute mistake turn into the best thing that's happened to her in a long time?
The Statistical Probability of Love at First Sight by Jennifer E. Smith looks at what it means to be in, and out, of love from several different points of view. Hadley's parents are divorced, and her mom and dad have both found someone else who makes them happy. Hadley loves her dad, but she has a hard time forgiving him for leaving in the first place. She feels he has left his old life behind, including her, and is moving on to something new.
Oliver had a difficult relationship with his own father, but he's able to help Hadley see hers in a new light. As the two of them find and lose each other several times in a 24-hour period, they learn more about what they truly want for themselves and their families.
The publisher provided me with a copy of this book to review.
Save