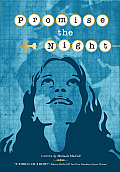 In the early 1900s a girl named Beryl Clutterbuck was growing up on a ranch in what was then British East Africa. With a mother who had returned to England when she was a baby and a father who had little time to spend on raising her, Beryl grew up wild and as resistant to taming as the land around her. Her best friend was a native boy, Kibii, and she wanted to train to be a Nandi warrior.
Beryl's fierce sense of daring and adventure never left her, and she later went on to be Beryl Markham, the first pilot to fly solo from England to North America. Promise the Night is a work of historical fiction by Michaela MacColl that weaves real life incidents from Beryl's pre-teen years with rich details of African life. The result is a fascinating portrait of a girl who is courageous, independent, unconventional, and not always likeable.
Promise the Night also paints a vivid picture of Africa during those times. White settlers came for the vast tracts of land they could buy for farming, ranching and other pursuits. Inevitably, there were conflicts with black natives who were looked down on for what were considered primitive ways.
Tales of lion hunts, leopard attacks, encounters with baboons and horse races are thrilling to read about, and don't be surprised if you find yourself alternately cheering for Beryl and appalled by her sometimes bristly nature. Promise the Night brings a part of her childhood to life while also interspersing notes from her solo trip across the Atlantic.
I first learned about Beryl Markham when I read her memoir, West With the Night. While I really like that book a lot, it's not accessible for younger readers. Promise the Night fills in that gap and introduces younger readers to this remarkable woman. I highly recommend it for mother-daughter book clubs with girls aged 9 to 13. I also believe boys will like this book equally as well as girls.
P.S. You may also want to check out the discussion guide for this book at MacColl's website. AYou may also want to read the first chapter of Promise the Night.
The publisher provided me with a copy of this book to review.