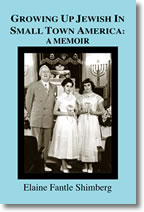 Here's a guest book review by author Christina Hamlett (AuthorHamlett.com).
Title: "Growing Up Jewish in Small Town America: A Memoir"
Author: Elaine Fantle Shimberg
Published in 2011, Abernathy House Publishing
Among the numerous delights in Elaine Fantle Shimberg's latest release, Growing Up Jewish in Small Town America: A Memoir, are the inclusion of quotes that speak as much to Jewish culture and philosophy as they do to the universally bewildering dichotomy of wanting to blend in and yet still stand out as unique. Shimberg's fond recollections of being one of the 32 Jewish families living in 1940's Fort Dodge, Iowa are funny, conversational and reminiscent of a safer era in which kids could ride their bicycles after dusk down neighborhood streets and not worry about ending up on the back of a milk carton. The black and white captioned photographs sprinkled throughout the text are sweet frosting on an already delicious cake, and it's easy to see how the young Elaine's curiosity, daredevil sense of adventure, and unabashed mirth laid the foundation for such a successful career as an author, columnist and talk show host when she grew up.
As a former actress, I can likewise find much to relate to in her anecdotes about treading the boards as the Virgin Mary at her kindergarten's Christmas pageant and turning her time in the spotlight into a boisterous solo of "Rock a Bye Baby." That she disavows blame or credit for her embarrassed teacher later joining a convent is one of many humorous postscript remarks guaranteed to have liquid come out of your nose if you're foolish enough to be drinking while reading.
What I especially admire about Shimberg's breezy and approachable style is that she doesn't resort to one of the common practices of others who have penned life stories; specifically, their penchant for analyzing, interpreting and justifying actions and events from the 20/20 perspective of adulthood instead of just relating them from the innocence of memory. Though written decades after-the-fact, the voice in which she whimsically brings her past to life is that of an inquisitively impatient young adult who wants to rush headlong into the future and yet recognizes that – like Dorothy from "The Wizard of Oz" – everything that defines her true values has not only been with her all along but was shaped by the experiences of her ancestors, themselves strangers once upon a time in a strange land.
Shimberg's book will resonate as much with teenagers starting out on their own journey as it will with well traveled adults caught up in the introspection of all the roads not taken. If I have any criticism at all of the book, it's that it was much too short. One can only hope that this exceptional storyteller has many more chapters and pictures up her sleeve that will entertain us in the coming years.
Save