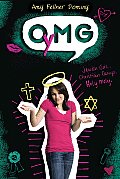 OyMG by Amy Fellner Dominy tells the story of Ellie, who hopes her skills at debate will help her win a scholarship to a prestigious private high school. The trouble is, she finds that her religion may count against her in the selection process. When she decides to hide who she is to increase her chances of winning the award she sets off a whole new debate among her family and friends.
OyMG brings up great issues to discuss in mother-daughter book clubs, and my new meeting planner guide for this book helps you plan what to do, what to talk about, and what to cook when you schedule your book club meeting to discuss it.
As with all the meeting planner guides offered at Mother Daughter Book Club. com, the OyMG guide contains a book review, an interview with the author, a list of discussion questions, suggested activities and book-related recipes you can cook for your crowd.
To see the whole list of ten titles and learn more about my ebook offering six guides at a discount, visit the Meeting Planner Guides page at Mother Daughter Book Club. com.
Also, watch for more information about these two new guides that will be available in late December:
Where the Mountain Meets the Moon by Grace Lin
Al Capone Does My Shirts by Gennifer Choldenko
If you'd like to suggest a title for me to add, just send me an email at [email protected].
Save