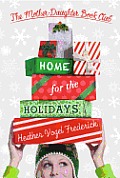 Home for the Holidays is the fifth book in Heather Vogel Frederick's beloved series, The Mother-Daughter Book Club. By now, the girls of the Concord, Massachusetts book club are almost as well known to readers as the characters in the stories they are tackling this year: all 10 titles in the Betsy-Tacy series written by Maud Hart Lovelace. Even though Lovelace's books take place in the early 1900s, the very modern girls of the book club are surprised to find that they have a lot in common with her characters, despite the fact that the times they live in have changed so dramatically.
As Becca, Megan, Cassidy, Emma and Jess all look forward to Christmas, they each have to deal with very different issues that center around family, friends and their community. Becca's dad lost his job, threatening to derail her brother's entry into college and her mother finishing up her studies in landscaping. Cassidy's family is considering relocating for her stepfather's job. Megan is struggling with a long-distance relationship. Emma and Jess work to overcome a misunderstanding that has them questioning their longtime friendship.
Frederick weaves a lot of fun into her story as well. It's nearing Christmas, and there are scenes where different girls enjoy shopping, ice skating, sledding, cruising the Caribbean and more. Descriptions of Thanksgiving dishes and the New Year's feast they all share will have you cracking open a cookbook to make your own special treats. Along with quotes from the Betsy-Tacy books and facts about Maud Hart Lovelace and her real friend Tibs, there are lots of other references to situations Betsy and Tacy face that are similar to the ones the Concord girls encounter.
Frederick also has the magic touch of knowing just how to have her characters resolve their conflict. As I have read each of her books in this series, I have found myself wishing I had her pen guiding me in real-life sticky situations. Moms and daughters who have come to love the mother-daughter book club books will surely find even more to love here. I recommend it for ages nine to 14.