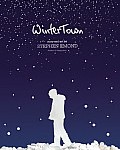 Evan and Lucy have been best friends ever since they can remember. They used to spend hours playing together and creating stories and drawings for an imaginary place they call Aelysthia. That was before Lucy's parents split up and she moved with her mother from New England to Georgia. Now she comes back once a year to visit her dad at Christmas and New Year's.
Evan hasn't heard from Lucy in months when she lets him know she's at her dad's home again. And she's changed. Her hair is chopped short and dyed black. She's got an earring in her nose, and she's wearing heavy makeup. She doesn't say much. It's clear to Evan that something has changed dramatically for her, but she won't talk about it.
As the two spend time together, they struggle to reconnect and find the person they remember behind the façade they each show to the world. Evan conforms to his dad's expectations of achieving an Ivy-league education at the expense of his love of art, and Lucy hides the heartbreak of her home life that is at the center of her rebellion.
WinterTown, with story and art by Stephen Emond, takes readers on a journey of self-discovery for both characters. Emond's illustrations of the wintry world Lucy and Evan navigate, both in reality and in Aelysthia, create a feeling of coldness that applies to the outside as well as inside world of both Evan and Lucy.
Evan's perspective comes first, followed by Lucy's story and point of view. Woven between chapters is the graphic art Evan creates of Aelysthia, What emerges is a story of teens struggling to be who they are for themselves, regardless of who their parents expect them to be. Evan's father wants to control too much of his life, while both of Lucy's parents are too wrapped up in their own lives to pay much attention to hers. Evan and Lucy are important to each other, yet neither can save the other from the challenges they face.
The publisher provided me with a copy of this book to review.