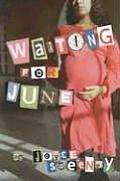 Here's a guest book review form author Christina Hamlett:
WAITING FOR JUNE
Author: Joyce Sweeney
Publisher: Marshall Cavendish (2006)
Genre: YA
When I was a high school freshman, there was a girl two years ahead of me who was inexplicably sent off one summer for an extended visit with relatives in Minnesota. Or so the story went. My mother, however, divulged the truth to me that the girl "got herself in trouble" and was off having a baby that would subsequently be put up for adoption. She further warned me that I was to have absolutely nothing to do with the girl when she returned because it would ruin my reputation and likely send me down the same dark path. (I remember thinking at the time how stupid she was to imply that pregnancy was a contagious condition.) Back in the 1960s, teenage girls who "went all the way" with their boyfriends and became pregnant were subjected to similar disappearing acts. Those who kept the news from their parents put themselves at the risk of back-street abortionists. Flash forward to the 21st century and some of the high school classrooms I've visited to deliver talks on Career Day. Not only have I seen a surprising number of girls in their last trimester who just can't wait to be mommies but have also overheard just as many more who carry home pregnancy kits around in their backpack and are clearly disappointed if the stick registers negative.
As unsettling as it is to think of babies being born to girls just short of their senior proms and graduation, there are obviously exceptions to the issue of maturity. Joyce Sweeney's confident young heroine, Sophie, in WAITING FOR JUNE knows exactly what she has gotten herself into and is welcoming the birth of a little girl that she will love beyond measure. Sophie's stubborn refusal to identify the baby's father (the result of a one-time indiscretion) has made her an object of curiosity, speculation and gossip amongst her peers as well as raised the hackles of her single-parent mom who has just as steadfastly refused to divulge the name and whereabouts of Sophie's dad. As if doctor appointments, homework assignments and figuring out how to get a job weren't enough items on Sophie's already crowded plate, she has also attracted the attention of a vicious adversary who leaves threatening notes in her locker. Sweeney does an exceptional job at creating a page-turning thriller that is interspersed with red herrings. There's also an underscore of mysticism which, unfortunately, is the story's only weak link. The fact that whales are involved would have been more plausible to me if the story were set in the Pacific Northwest instead of Florida.  Other than that, Sweeney captures the voice, mindset and obsessions of her target demographic. While adults are likely to figure out the villain's identity midway through the story, there are enough distractions for teen readers—especially involving Sophie's mother's past—that they'll be caught off guard when all truths come to the surface.
Save