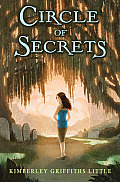 When Shelby Jayne's mamma, Mirage, left their family, Shelby swore she'd never forgive her. Now it's a year later, and because her father will be out of the country working for six months and her grandmother recovering from hip surgery, Shelby finds herself deep in the swamps of Louisiana on Mirage's doorstep with a suitcase in hand.
She's not interested in Mirage's reasons for leaving or in her box of recipes for healing spells, but she is drawn to the blue-bottle tree in the backyard. The tree is beautiful and mysterious at the same time, and it's mystery grows when Shelby finds notes inside some of the bottles that seem to be written from one person to another. Also mysterious is her new friend Gwen, who is always hanging around the cemetery and seems to be abandoned by her parents. If Shelby can solve the mystery of each, she just may be able to create a healing spell of her own that will mend her family and lift the burden of a tragedy from long ago.
Circle of Secrets is Kimberley Griffiths Little's newest book set on the banks of a Louisiana bayou. A companion to The Healing Spell, it expertly weaves a new tale while giving a nod to the previous one. Shelby Jayne faces many issues that should lead to good discussion as she deals with bullies in a new school, struggles to forgive and reconnect with her mother, and sees family conflict with new eyes.
Little never misses a beat as she weaves this tale of mystery, magic, and mother-daughter relationships. I highly recommend this for mother-daughter book clubs with girls aged 9 to 14.