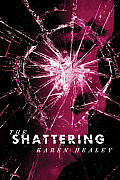 Keri can't believe her brother would kill himself. She and Jake were very close, and she's astounded that he could do something like that without her having a clue he was troubled. So when a former friend whose older brother also committed suicide suggests Jake may have been murdered, Keri is sure she's right. Especially when Janna point outs a pattern of suicides among older brothers over the years.
The two team up with Sione, who has also lost a brother, to find out who may be killing these boys and why. But their search has not gone unnoticed by those who would rather not be discovered.
The Shattering by Karen Healey is a thriller that also looks at the grief that family members feel after suicide. Keri, Janna and Sione want to know the truth about their brothers' deaths, and they dig up lots of secrets about local townspeople in their quest. But they are also painfully aware that their actions may put them in danger, and they want to avoid hurting their parents any further. Undercurrents of racism, sexual orientation, and social class gives readers a lot to think about as they turn pages to solve the mystery. Teens aged 15 and up should be fascinated by the issues and the twists and turns of the story until the end.
Publisher Little, Brown and Company provided me with a copy of this book.