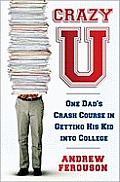 Any parent who's had a child apply for college will be able to relate to Andrew Ferguson's look at the process in Crazy U: One Dad's Crash Course in Getting His Kid Into College. But the ones who will get the most out of reading the book will be anyone with a kid who's in high school as well as the students themselves.
I read Crazy U with my daughter and our mother-daughter book club with girls who are nearly 17 and looking at completing college applications in the fall of 2011. Most of them have older siblings who have already gone through the process, so both moms and daughters are familiar with what to expect. Even so, Crazy U is an eye opener in many ways, and Ferguson's ability to humorously focus on the absurdities in the system makes it fascinating to read.
It was also interesting to get a "behind the scenes" look at things like the college rankings put out by U.S. News and World Report, the SAT, marketing strategies colleges use, writing the college essay and more. I'm not sure my daughter will drastically change her approach to filling out applications as a result of having read Crazy U, but I think it has helped to demystify the process more and help her relax—at least a little bit.
As for me, I'm recommending Crazy U to every parent of a high schooler I know. As one of the "kitchen people" Ferguson describes, I have a new outlook on the role I play in helping my daughter through the process. We'll see if I can keep that attitude until next May.
This book was a reading selection of my mother-daughter book club.
Save