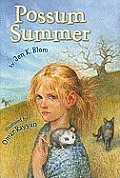 The first time P (short for Princess) picks up the tiny possum she knows she's in trouble. For one thing, she knows her Dad doesn't allow pets on their Oklahoma farm. For another, she doesn't even know what baby possum's eat. But after her dog killed the baby's mama, P can't just leave the little critter to die.
So begins Possum Summer, a delightful story about an eleven-year-old girl with a lot of determination, a hard-work ethic, and a dream to be responsible for the farm while her dad is away in Iraq. At moments funny and at others tender, Possum Summer also takes a serious look at important issues. P looks up to her dad, but he rarely seems to notice her accomplishments. There's also the question of the role animals play on a farm, and whether or not wild creatures should be tamed or returned to the wild when possible.
And of course, there's the little possum that P names Ike. He will certainly steal the hearts of readers aged 9 to 12 and their moms. Possum Summer is written by Jen K. Blom and illustrated by Omar Rayyan.
The author provided me with a copy of this book to review.