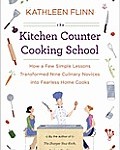 I already like to cook, and most of the time I think I do a pretty good job whipping up things in the kitchen. So when I started to read The Kitchen Counter Cooking School: How a Few Simple Lessons Transformed Nine Culinary Novices into Fearless Home Cooks by Kathleen Flinn, I thought I would enjoy her story but not find much to learn about cooking. From the first chapter, I knew I was wrong.
Flinn's narrative about working with 10 women who didn't feel comfortable in the kitchen is fascinating on many fronts. It all started with Flinn's encounter with a woman in a grocery store who was buying mostly boxed foods to prepare at home, because she didn't feel she could cook anything that would taste as good. From there she recruited 10 volunteers who opened up their pantries and fridges to Flinn, then prepared her something they would often cook. The lessons that followed were geared toward novices, but they hold something worthwhile for experienced cooks as well.
The volunteers learned everything from how to hold a knife and chop vegetables, to how to cut up a chicken, use leftovers, make soup and more. Each chapter of the book recounts the lesson and comes with recipes at the end. Flinn's style is conversational, and she includes little bits of fascinating information about cooking and food throughout the story.
I found myself reading passages out loud to my husband and checking my own cupboards each time Flinn went through a new lesson. And I was inspired to make several of the recipes even while I was reading the book. Things I previously thought were too much trouble to make, like chicken stock and homemade bread from scratch, Flinn demystifies and makes easy. I really enjoyed taking the opportunity of getting out of my rut in the kitchen and learning new things that I believe will serve me for a long time to come.
I'm keeping my copy of The Kitchen Counter Cooking School right alongside my Joy of Cooking and my Cajun cookbooks. I'm also planning to give this as a gift to several friends who have commiserated with me over their lack of skills at the stove.
The publisher provided me with a copy of this book for review.
Save