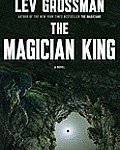 King Quentin is bored with his life in Fillory. He's itching for something, but he's not sure what. When the chance comes for him to sail off to a little-heard-of island to remind its inhabitants to pay their taxes, it seems to be exactly the kind of adventure that may start him down the road to something else.
That road does indeed lead to something different and totally unexpected for Quentin and Queen Julia, who is on the trip with him. As they journey through this world and magical ones, they test their skills and their resources and question just what it is they're looking for in the first place.
Fans of The Magicians will enjoy The Magician King, a sequel that sends Quentin off on a quest and fills in Julia's back story. It's not crucial for readers to have finished the first book to understand what's going on, but I believe The Magician King can be enjoyed more as a continuing story than the beginning of one.
While this is not a page-turner, as the action unfolds at a reasonable pace, references to other popular literature filled with magic and strange creatures (like Harry Potter and The Lord of the Rings) make this series especially fun for teens. Note that foul language and sexual references can be found throughout the book. You may also be interested in watching this music video Parry Gripp created for The Magician King.
If you'd like to win a copy of The Magician King, just leave a comment here by midnight (PDT), Wednesday, September 7. Entries are limited to addresses in the U.S. or Canada. Please note: the giveaway is closed. Congratulations to Lauren on winning.
The publisher provided me with a copy of this book for review.