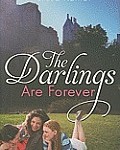 Jane, Victoria and Natalya have gone to the same New York City school since day one, but now that they're about to enter high school, they'll all be headed to different places. Super smart Natalya got a scholarship to a prestigious school, artsy Jane was accepted into the performing arts school and quiet Victoria is headed to the same high school her sister graduated from with honors.
To quell their nerves at starting new adventures, they remind themselves that Jane's grandmother had once advised them to do the thing they're afraid of doing. That spirit of adventure carries throughout The Darlings Are Forever, a first in a new series by Melissa Kantor.
While I had a little difficulty remember details about each girl at the beginning, before long I was right there with each of them as they dealt with issues like making new friends, meeting boys, trying out for productions and testing the boundaries they've grown used to in many ways.
The issues that arise should resonate with many girls aged 12 and up: Can I welcome new friends into my life while staying close to old friends? How do you communicate to your parents that you're growing up and ready for more responsibility? How do you find your voice to be your true self instead of what those around you expect you to be?
The Darlings, a nickname Jane's grandma called them, manage to work out their issues in the end with just enough mystery left over to leave you looking forward to the next book in the series. I recommend it.
I received a copy of this book from the publisher, Hyperion. Please see my review policy for more info.