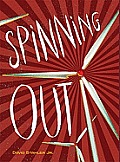 Today I'm reviewing Spinning Out by David Stahler Jr., a book for young adults that I recommend for both guys and girls. As part of the author's blog tour, I'm offering one copy to give away to a reader who comments here by midnight (PDT), Wednesday, July 20. (Please note: the giveaway is closed. Congratulations to Laura on winning.)
Here's my review:
Frenchy and his friend Stewart are known for being goof-offs who pull pranks at school, and Frenchy expects his senior year to go by just like all the others so far. But Stewart has a different plan, and since Stewart is usually the one to come up with the ideas, Frenchy gets pulled along in his latest scheme: playing Don Quixote and Sancho Panza in the school's production of Man of La Mancha.
At first Frenchy thinks this is just another elaborate prank Stewart has dreamed up, but as the production continues, Stewart seems to get deeper and deeper into his role and further from reality. He rails against the windmills set up outside of town, vowing to take them down. Frenchy begins to see signs that he is slipping away. Like Sancho, Frenchy has always liked playing the sidekick. Now he must decide whether he can step out of his comfort zone to help his best friend.
Spinning Out by David Stahler Jr. is a gripping story that looks at teen mental illness from several different angles. Frenchy is the best one to recognize what's happening with Stewart, because his own father committed suicide after returning from fighting in Iraq. Yet, even he is unsure if what he's seeing is normal stress or something more. Stewart's parents want to believe everything is okay. The school counselor doesn't see the issue unless other problems surface.
Frenchy is a down-to-earth character with problems of his own. He's smart, but he figures if he doesn't try too hard, it will be easier for him to succeed. And he won't have to disappoint others if he fails. His dad's suicide has affected him a lot, but he puts on a happy face so others won't feel awkward around him. He's sensitive about his mom and how she's coping, but he doesn't say much about it.
Like a play, Spinning Out is divided into acts, starting with the exposition, going on to rising action, climax, falling action and dénouement. The organization helps move the story along while giving the reader clues as to what to expect in the next section. Be aware that the main characters spend a lot of time smoking marijuana for some of the book, and there's lots of foul language. Even so, I really enjoyed reading Spinning Out, and I believe it is a compelling story that shines a light on some important issues. I recommend it for guys and mother-daughter book clubs with girls aged 14 and up.
Publisher Chronicle Books provided me with a copy of this book to review.