When I read Christina Mandelski's book, The Sweetest Thing, I had a constant desire to make cake. But Christina says it's a great inspiration to get book club members to try their hands at making cake as well. As someone whose "ugly cakes" have been famous with my friends and family for years, I could stand to have a few lessons myself. So I was happy when Christina offered to share a few thoughts about cake-making and a recipe with readers at Mother Daughter Book Club. Here's her essay.
Let Them Eat Cake!
By Christina Mandelski
Hi there fellow book lovers—my name is Christina Mandelski, author of the young adult novel, The Sweetest Thing. I'd like to extend a big thank you to Mother Daughter Book Club. com for having me on the blog today.
The Sweetest Thing is the story of a gifted teenaged cake decorator named Sheridan Wells. She's so good, that she's become the go-to girl for cakes in her small Michigan town. Unfortunately for Sheridan, the rest of her world is a complete mess. You can read more about Sheridan's story in the Mother-Daughter Book Club review here.
As the author of a novel about cake decorating, you can imagine that the number one question I get asked by my readers is: "Are you a cake decorator?"
And the answer is no, I am not. What I am is a big fan of cake artists. In fact, the idea for the book was born after watching the Ace of Cakes TV show with my own daughters. These days there are a ton of other cake shows and in our house we'll always sit down to watch Cake Boss, or Cupcake Wars, or the Food Network Challenges (what those people do in eight hours is unbelievable!).
While I am not a cake artist, I did, however, do my research. While writing the book, I took a class at a local cooking school to learn the basics of cake decorating. I had a great time but what I took away from the class was this: cake decorating is HARD! It requires artistic ability and a great deal of patience (and I've not especially been graced with either). Still, I gave it a try…
Here is one cake I made for the class: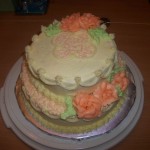 It wasn't exactly Ace of Cakes material, but my daughters will tell you, at least it tasted good!
If you've read or are planning to read The Sweetest Thing for your book club, I'd encourage you to try to incorporate some cake decorating into your meeting. Fondant is fun and easy (think flexible, edible Play-doh) to make and work with.
If you want to give it a whirl, here's a great recipe (you can also find it in The Sweetest Thing book club guide on my website). Make it before your meeting and store it in an airtight container. Make sure you have cornstarch when you're working with the fondant, so it doesn't stick to your surface.
You'll need:
15 oz. mini marshmallows
2 tablespoons water
½ teaspoon salt
2 teaspoons lemon juice
2 teaspoons light corn syrup
1 teaspoon vanilla extract
½ teaspoon lemon extract
7 cups (approximately) confectioner's sugar
Directions: Grease microwavable bowl and wooden spoon with shortening. Pour in marshmallows and water. Microwave on high for 40 second intervals, about two minutes total. Mix should be soupy.
Immediately add corn syrup, lemon juice, salt and extracts. Sift in five cups of sugar, one cup at a time. Mix with greased spoon. Grease hands with shortening and knead in sixth cup of sugar in bowl. Grease work surface and take out mixture. Regrease hands and knead in the last cup of sugar. If too soft, more sugar may be added. Shape fondant into a mound and coat with shortening. Double wrap in plastic wrap and store in a plastic freezer bag, pressing out extra air before sealing. Allow to rest for at least two hours.
Bring the fondant to your meeting and maybe each mother-daughter team could try making their own bow (trust me, it's easier than it looks!). Here's the result of "fondant night" at the class I took: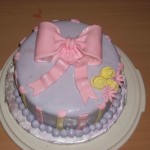 Wanna give it a try? Here's a step-by-step video that might help.
http://www.youtube.com/watch?v=4vcVtBfgG8Y&feature=related
If you'd rather not mess with gooey marshmallows, why not encourage each girl and mom team to design a killer cake that represents a theme? Start a cake sketchbook like Sheridan uses in the book and see what you come up with (your only limit is your imagination!)
I'd love to see the results of your Sweetest Thing get-together, so feel free to email me pictures at [email protected], or post them on The Sweetest Thing's Facebook page here.
And of course, no matter what activities you end up enjoying at your meeting, make sure cake is somehow involved—and have a piece for me!
Save