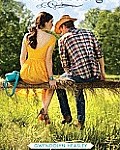 Corrinne lives the perfect life in New York City. Her father makes a lot of money, she spends a lot of it, and she parties hard with her friends. But when the financial crisis tightens family finances, she and her younger brother find themselves adapting to the slow life in a small Texas town, staying with grandparents they barely know.
Tripp adjusts to his new surroundings well, but Corrinne is determined to hate everything about Broken Spoke. Yet when she makes a new friends and starts to integrate into country life, she begins to  reconsider her perfect life from before.
Where I Belong by Gwendolyn Heasley explores all kinds of relationships: mother-daughter, grandmother-granddaughter, sister-brother, and best friends. Corrinne discovers things about her glamorous mother that she never would have guessed were in her past. She learns to respect her grandmother once she sees that the rules grandma lives by are important. Corrine also learns a lot about herself and the kinds of things she really values in life.
Corrinne's conversion happened a little too quickly for me to believe it's genuine, and maybe that's why I also wasn't convinced her change of heart would last. Also be aware that Corrinne and her friends in both New York and Broken Spoke drink heavily and often, even though they're only 16. Even so there's a lot for mother-daughter book clubs with girls aged 14 and up to talk about, including forming values about what's important in life, how money contributes or doesn't to happiness, how we define friendship, and the interplay of family dynamics. There are plenty of funny moments, and Heasley gives us interesting glimpses into big city life as well as country living.
The author provided me with a copy of this book to review.
Save