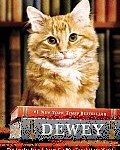 A tiny kitten was left in a library return box in a small town in Iowa during the late 1980s. When found, he was almost frozen and half-starved. From such humble beginnings, that tiny kitten went on to become the library mascot and an inspiration to people all over the world. Dewey the Library Cat: A True Story, written by Vicki Myron with Bret Witter, tells the tale beginning with Dewey's rescue and continuing on throughout his life. And what a life it was.
Like many of the people of Spencer, Iowa, I was captivated by Dewey from the start. Yes, I am a cat lover, but this story is about more than the survival of an alley cat. It's also about a town that needed a symbol of hope and people who were encouraged to carry on in the face of hardship because they were bolstered by a small, orange feline. I felt like reading this book to my own cat and saying to her (as though I'm a lecturing parent), "Why can't you be more like Dewey?"
Dewey will steal your heart and lift your spirits. Vicki Myron, Dewey's mom at the library for all his life, does a great job of telling his story while weaving in bits and pieces about events going on in Spencer and beyond during Dewey's reign. This book for readers aged 9 to 12 is adapted from a story written for adult readers. It should charm both generations in mother-daughter book clubs. I highly recommend it.
Publisher Little Brown provided me with a copy of this book to review.