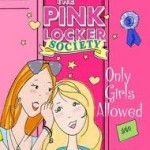 Jemma is excited for her first day of eighth grade. This is the year she gets to be on the top of the heap, someone sixth and seventh graders look up to. But when she opens her locker the first day, she's surprised to see that she's been invited to be a member of The Pink Locker Society (PLS), a secret group formed to help solve problems for other students. Jemma's two best friends have been invited as well, and so has a new girl. But they can't tell anyone they're in, because the society is ultra secret.
At first Jemma is worried that she's not qualified to give advice, since she has a lot of questions herself. But as girls start asking about boys, periods and other issues about growing up, Jemma and her friends put in a lot of research to find the right answers.
Reading The Pink Locker Society by Debra Moffitt is a great way for girls aged 9 to 12 to get answers to questions they may have about their changing bodies and emotions. The book is the first in a new series, and it's also a lot of fun. The girls are almost like superheroes, with a secret hideaway and up-to-date technology that lets them run their website. Even though they have to keep their identities secret, they overhear lots of positive comments about the PLS from other students in the school hallways.
The author is the kids' editor at KidsHealth.org, so the issues she brings up in the book mirror the real-life questions she gets by email. The book has a companion website, PinkLockerSociety.org, where girls can go for all kinds of activity ideas, such as creating your dream locker, finding recipes and more. The book also has a Q. and A. with some frequently asked questions.
This book could help moms and daughters talk about lots of issues that may be on girls' minds as they approach puberty and get ready to enter middle school. I highly recommend it.