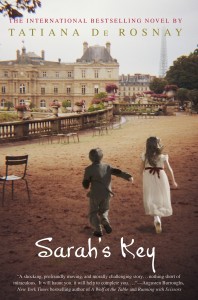 Set in both 1942 and modern times, Sarah's Key by Tatiana De Rosnay is a mystery as well as a heartbreaking look at the round up and deportation of Jewish families from Paris to Auschwitz in what was known as the Vel d'Hiv for the place the families gathered—the Vélodrome d'hiver, or winter velodrome.
Ten-year-old Sarah Starzynski is sleeping when the Paris police bang on her apartment door.  Her family had heard of Jews being rounded up, but only the men. So Sarah's father was hidden in the basement, thinking his family was safe. But the police this night came for everyone. Sarah's four-year-old brother, Michel, stubbornly refused to go and insisted on hiding in a secret cupboard before the police saw him. Sarah locked Michel in and promised to come back when she returned.
Sixty years later, Julia Jarmond, an American journalist living in Paris, investigates the story of the Vel d'Hiv and uncovers Sarah's story when she finds out that her husband's family moved into Sarah's apartment after her family left. She is determined to find what happened to Sarah, in the process uncovering family secrets that some think would be best to leave buried.
Gripping and emotional, this fast-paced book brings to life Paris in the 1940s and in modern times. It takes a frank look at a nation and a people who for so long would not come to grips with its complicity in sending its own citizens to die in Nazi concentration camps. It also follows Julia as she delves deeper into the story while confronting conflicts of her own with her husband and his family. I recommend it for mother-daughter book clubs with girls in high school.