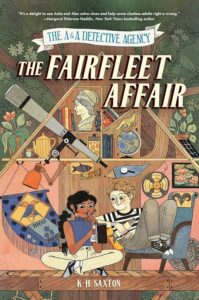 Young readers who love mysteries similar to The Westing Game, will love K. H. Saxton's The A & A Detective Agency: The Fairfleet Affair. In the story, Alex Foster and Asha Singh are not only friends, they also have a budding detective agency. They even have a headquarters in a tree house in front of Alex's home.
They got their start when Dr. Alistair Fairfleet gave them a case to practice on. When Dr. Fairfleet disappears, no one in the town of Northbrook knows where he went. Then a letter arrives for Alex and Asha, asking their help to find him. The young sleuths have to follow clues and solve puzzles to figure out who among the three adults who worked with Dr. Fairfleet they can trust.
The story follows interesting twists and turns, revealing secrets along the way. Author Saxton weaves a good story, waiting until the end to reveal the ultimate mystery. I had a lot of fun following along with Alex and Asha as they investigated.
I highly recommend The Fairfleet Affair for kids' book clubs and readers aged 9 to 12.
The publisher provided me with a copy of this title in exchange for my honest review.