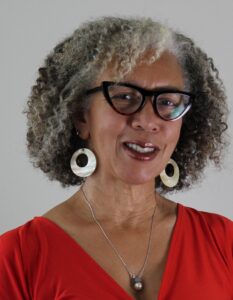 Award-winning children's author Carole Boston Weatherford and her illustrator son Jeffrey, worked together to create Kin: Rooted in Hope. An illustrated book of poems for young readers, Kin draws on their personal family history to humanize their enslaved ancestors and their struggles as well as their triumphs. In this post, Carole talks about the book and how it came together. Check back in tomorrow when I feature a review. You can also find out more at Carole's website: https://cbweatherford.com/.
Seven Things About Kin: Rooted in Hope
Kin: Rooted in Hope is about family through and through. The book is my third mother-son/author-illustrator collaboration with Jeffery Boston Weatherford. KIN chronicles my quest to trace our family's heritage from enslavement in colonial America to Civil War battlefields and the Reconstruction. Searing poems and dramatic scratchboard art conjure our enslaved ancestors and reclaim their lost narratives. To amplify marginalized voices and examine erased lives, we pushed past the limits of the archive and resorted to speculation. We cast our kin in a blinding new light.
1.      Family and freedom are the key themes of KIN. KIN examines the threat that family separation posed to enslaved people. 
2. I enlisted family—my son Jeffery Boston Weatherford, an award-winning illustrator—to create the visual narrative. We never worked side by side on the project, but over the years have spent a lot of family time in the book's historic setting. We both dug deep to do our ancestors' justice.
3.      The seed for KIN was sown during my childhood visits to my family's small farm on Maryland's Eastern Shore. Located in Copperville, a kin community dating to the Reconstruction, the farm was owned by my great grandparents, James and Mary Ann Moaney, former sharecroppers who sold handmade cornhusk horse collars to purchase the land. As a parent, I returned to Copperville with my own children who also grew to cherish that land.
4. Copperville was co-founded during the Reconstruction by Black Freemen, including my great-great grandfather, Phillip Moaney, whose picture hung in my great grandparents' farmhouse. I was probably a tween or teen when I first learned that Phillip had been enslaved at Wye House, Maryland's largest enslavement plantation.
5. My family also has roots in nearby Unionville, a hamlet co-founded by my great-great grandfather Isaac Copper and other veterans of the U.S. Colored Troops. Prior to enlisting, Isaac was enslaved at Wye House in Talbot County, Maryland.
6.      The plantation's most famous resident—enslaved or free—was Frederick Douglass, who lived there as a boy when he was first separated from his family. In his autobiography, My Bondage and My Freedom, Douglass describes my fourth great grandfather, known as Doctor or Minister Isaac Copper.
7.      KIN conveys the value of family history. Many African American genealogists hit a brick wall at 1870, the first census to account for the formerly enslaved population. Thanks to research by my distant cousins, my family can reach back to 1770. KIN affirms that lineage, family lore and land memory all contribute to generational wealth. KIN reflects the rich heritage that lies within so many families waiting to be revealed and passed down.