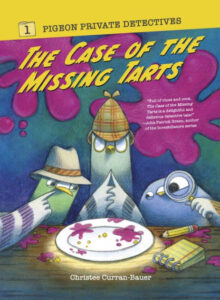 The Pigeon Private Detectives have a new case: someone stole a plate of tarts from the precinct. Crumbs and clues are dropped all over the office, and they'll have to investigate them closely to find the culprit.
Book One of the Pigeon Private Detectives series, The Case of the Missing Tarts, finds the three sleuths hungry as they go follow the trail of clues. Their work takes them to a hot dog stand, a pond in the park, and a bakery. Readers get snippets about the tart thief that can help them figure out who did it.
The Case of the Missing Tarts is a cute story that should catch the interest of budding sleuths and beginning readers aged 6 to 8.
The publisher provided me with a copy of this title in exchange for my honest review.