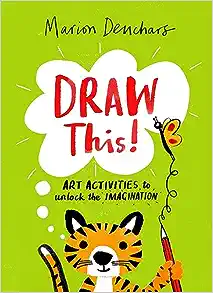 Draw This! Art Activities to Unlock the Imagination by artist Marion Deuchars, is a small book designed to help budding artists tap into their creativity and make some art. Known for her Let's Make Some Great Art series, Deuchars helps make the process of turning simple lines and squiggles into animals, insects, and other creatures that young minds can dream up.
Simple materials like pens, pencils and colored pencils are all that's needed to follow the instructions. Some of the instructions are open ended, like when Deuchars asks, "What's that hiding behind the clouds?" on two pages filled with puffy white clouds in a blue sky. Others are more intentional, like the steps on how to draw a cartoon rabbit.
Draw This! is sure to provide hours of entertainment and support kids' imaginations as well as their confidence and joy in making art. I recommend it for ages six and up.
The publisher provided me with a copy of this title in exchange for my honest review.