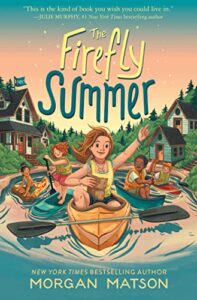 Ryanna Stuart expects to spend the summer on a movie set with her film director dad. But then an invitation arrives to a former summer camp run by her mom's parents in Pennsylvania, grandparents she doesn't remember meeting before her mom died. Her dad is reluctant for her to accept, telling her there was a rift between them that he doesn't expect to mend.
But sensing an opportunity to learn about her mom, Ryanna decides to go. Which is when she discovers that not only will she spend time with her grandparents, but she'll also get to know aunts, uncles, and cousins she didn't realize existed. On top of that, she discovers a treasure map that sends her on a quest of discovery.
The Firefly Summer by Morgan Matson is great for lovers of summer camp stories, coming of age tales, and adventure and mystery books. Ryanna is 12, and her summer of discovery starts off rocky, as she doesn't know how to fit into the group of kids and adults who clearly all know each other well. At first it's overwhelming, but once she realizes that there are few rules and endless days to fill with fun and activities, she relaxes and starts to fit in.
When Ryanna's grandmother gives her a set of mystery books that Ryanna's mother read at the same age, she discovers the mystery of the map. The cousins spend most of the summer following its clues and in the process, Ryanna learns a lot about her mom.
Matson weaves an interesting tale that never disappoints. I thought I had figured out the mystery early on, and I'm delighted to say I was wrong. The Firefly Summer is lots of fun as well as entertaining and thoughtful all the way through to the last page. I highly recommend it.
The publisher provided me with a copy of this title in exchange for my honest review.