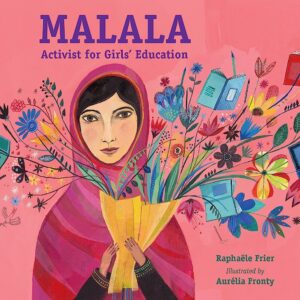 Say the name Malala, and most people know it refers to Malala Yousafzai of Pakistan, who was shot by a member of the Taliban in 2012 because she was outspoken in favor of education for girls. She was awarded the Nobel Peace Prize in 2014, and she has continued to advocate for children's education.
An illustrated book by Raphaele Frier, Malala: Activist for Girls' Education, tells the story of how she became so dedicated to her cause, and the ways she has spoken out over the years. Colorful, detailed illustrations by Aurélia Fronty add richness to the tale, which also helps readers learn about the history of Pakistan and the people who live there.
The last several pages of the book contain photographs of Malala and her family while detailing important events in her life and highlighting her quotes. It also provides more history about the controversy in many parts of the world over educating girls. Short bios of some people who inspire Malala, like Mahatma Gandhi and Martin Luther King, Jr., are also included.
While Malala: Activist for Girls' Education has the size and look of a picture book for younger children, it's more meaningful for ages 6 to 9, as it discusses concepts and ideas that help children that age understand life in different parts of the world. It's an interesting story as well as a good reference book to keep in a home library.
The publisher provided me with a copy of this title in exchange for my honest review.