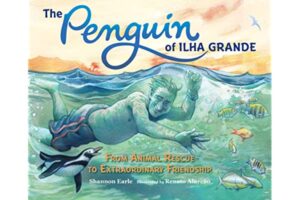 When Seu Joao rescued an oil-slicked penguin on the beach by his home in Brazil, he never expected it to turn into a long-term relationship. He cleaned the penguin he named Dindim and nursed him back to health. But when Seu tried to release him back to the ocean, Dindim returned. Nothing could make him stay away from the little cottage next to the beach or the man who saved him.
Shannon Earle's picture book, The Penguin of Ilha Grande: From Animal Rescue to Extraordinary Friendship, tells this true story of an unexpected encounter that turns into something more. Dindim eventually molted and swam away, but he came back months later and continued to do so for years.
It's a sweet tale that includes information at the back of the book about the actual event, Magellanic Penguins in general, conservation efforts and more. The Penguin of Ilha is also beautifully illustrated by Renato Alarcao, whose subtle colors infuse Seu, Dindim, the beach, and the ocean with a gentle aura.
The publisher provided me with a copy of this title in exchange for my honest review.