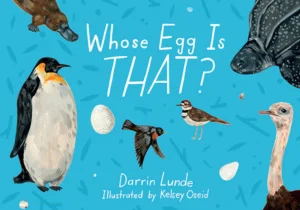 Every time I unexpectedly come upon an egg in a nest, I get a thrill thinking about the tiny life growing inside. Darrin Lunde's picture book, Whose Egg Is That? captures that wonder while helping children learn about the way different creatures lay different colored and shaped eggs that help them survive until they hatch.
Parents can start building that sense of wonder even by reading the inside flap of the cover. "Eggs come in all shapes and sizes. They can tell you a lot about an animal. Look at the hints about each animal. Then look at the animal's egg. Can you guess which animal laid each egg?"
Gorgeous illustrations by Kelsey Oseid show the delicate blue of robin's egg, and the speckles on a killdeer's egg that hides it among a group of pebbles. Children learn about fossilized dinosaur eggs and those of leatherback sea turtles.
At the end, a couple of pages of "Eggcellent Egg Facts" reveal tidbits like the fact that a hummingbird egg is smaller than a dime and that white terns don't build nests. Instead they balance their eggs on a tree branch.
Whose Egg Is That? will provoke lots of parent-child discussions about all kinds of egg-laying creatures. Put this one on your bookshelf to read again and again.
The publisher provided me with a copy of this title in exchange for my honest review.