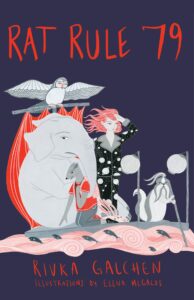 On the eve of her 13th birthday, Fred has a fight with her mom. The two are settling in after yet another move and Fred is angry that she once again has to start over with making friends and forging a life. When she goes to her room she's too angry to sleep. In the morning she leaves her room to see something totally unexpected: her mom steps through a paper lantern and disappears. When Fred follows, an adventure begins.
Rat Rule 79: An Advenure by Rivka Galchen is an inventive tale of Fred's journey to find her mom in a fantasy land where a Rat Queen rules. With the help of her new friends, Downer the elephant and Gogo the mongoose, Fred has to learn the myriad rules of what's allowed and not allowed while she searches. Ultimately she hopes to heal the relationship between the rat queen and her beloved adopted deer and return to a normal life.
Similar to Alice in Wonderland and The Wonderful Wizard of Oz, Rat Rule 79 is about a child trying to find her way during a confusing time of life. The characters she meets on her quest all help her gain insight to something that confuses or troubles her as she navigates perils and helps those around her as well as herself.
Illustrations by Elena Megalos are rendered in shades of gray and red, giving them a dreamy quality to go along with the compelling narrative. Rat Rule 79 is sure to delight readers both young and old. I recommend it for ages 10 and up.
The author provided me with a copy of this title in exchange for my honest review.