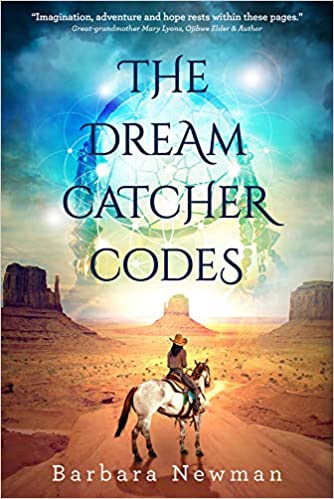 For a long time Sophia has been the guardian of a magical horseshoe which hold the key to keeping the natural world healthy. But when the horseshoe shatters and raven steals a piece, she must gather four young adventurers to retrieve the missing piece and restore order. Dubbed the Crystal Warriors, each girl brings strength associated with the four directions and the elements of fire, air, water, and earth. Together they must work fast to preserve the land they love.
The Dreamcatcher Codes by Barbara Newman is an adventurous tale that encourages young readers to tune into the wisdom of cultures and civilizations that have long felt a connection to working in harmony with nature. The girls feel the need to act quickly, as the world and the plants and animals that live on it suffer from pollution and other ills. Dark forces gather against them, but as their confidence grows, so does their determination to do what needs to be done.
The Dreamcatcher Codes uses fantasy elements to emphasize the dangers facing the natural world, and it can serve as a call to action for young environmentalists. I recommend it for readers aged 9 to 12.
The author provided me with a copy of this title in exchange for my honest review.