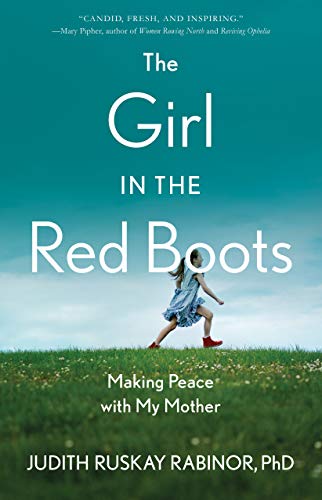 In her psychotherapy practice, Dr. Judith Ruskay Rabinor began to explore the importance of the mother-daughter relationship to her patients, many of whom were dealing with eating disorders. While helping others connect with their unexamined trauma, she turned her clinical eye on her relationship with her own mother. She writes about what she discovers in The Girl in the Red Boots: Making Peace With My Mother.
Rabinor is an engaging storyteller, whether recounting the issues she helped her patients work through or looking at her own childhood and the evolving way she interprets her mother's actions throughout their lives together.
Rabinor also offers some exercises readers may consider doing to help them see their own mothers in a new way. For instance, one activity prompts readers to think about a story they tell repeatedly about their mother, and then imagine telling it again to someone who is listening attentively. Readers are asked to notice how they feel in their bodies while telling the story and look for insights into what it may reveal and why they like telling it.
The Girl in the Red Boots is engaging from the first page to the last, with Rabinor taking the reader on a thoughtful journey that can provide a jumping off point for mothers and daughters to begin their own discussions about issues important to them.
The publisher provided me with a copy of this title in exchange for my honest review.