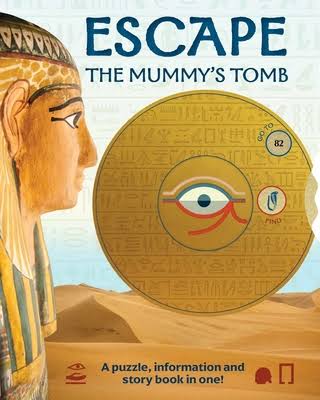 If you're looking for a fun-filled family read-aloud, escape-room-type activity book, history lesson all in one, Escape the Mummy's Tomb by Philip Steele delivers on all counts. My daughter read aloud in our family while the rest of us followed along with clues to guess the best action to help the main character escape after accidentally falling into a tomb in ancient Egypt.
The main character is a 13 year old living in the village of Set Maat near Thebes. The text doesn't identify the character as male or female, instead encouraging the reader to personalize for themselves by using second person even from the beginning. For instance, the setup reads in part: "It is another hot day, and your father has left for work. Be he forgets to take his lunch! If you are quick, and take a shortcut through the Valley of the Kings, you might catch up with him. You are a fast runner, and you speed through the dust and the rocks. But as you turn a corner in the valley, you trip and fall."
The subtitle says this is "a puzzle, information and story book in one," and indeed there are many questions to be answered and clues to follow, some of which have readers turning a wheel built into the front cover to tell them where to turn for more clues. It's a fun way to engage young readers to learn about ancient Egypt and the tombs built during the period.
I highly recommend Escape the Mummy's Tomb for readers aged 8 to 12.
The publisher provided me with a copy of this title in exchange for my honest review.