Today I'm reviewing a book I loved that's great for readers aged 9 to 14. It's called Dan Unmasked, and I have one copy to give away to someone who comments here. Just leave a note telling me if you have a favorite comic book character or series, whether it's current or from your childhood. Be sure to comment by midnight (PDT), on Tuesday, August 31. U.S. addresses only please.
Here's a little bit you may want to know about the author: Chris Negron grew up outside Buffalo, NY, where he spent a huge chunk of his childhood collecting comic books and loving sports. But it was the hours of playing Dungeons and Dragons in friends' basements that first gave him the dream of one day writing his own stories. That dream kept him company through college at Yale University and years of programming computers for big companies. Dan Unmasked is his debut novel, and he now lives outside Atlanta with his wife, Mary. Visit him at www.chrisnegron.com.Find Chris on Instagram or on Twitter
And here's my review: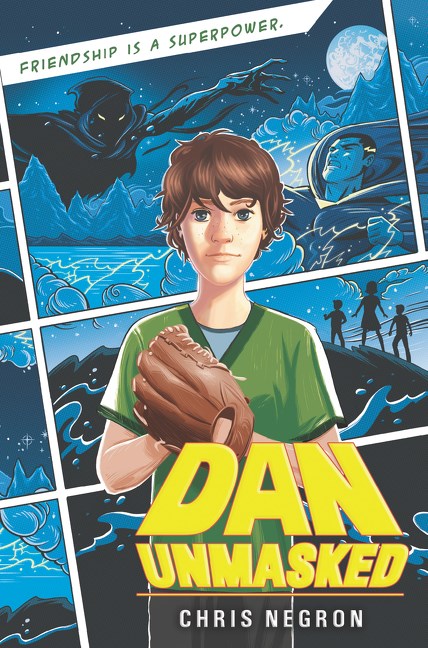 For Dan and his baseball teammates, Nate has always been the one they look up to, the one who keeps them steady when they get nervous about a game or something else in life. So when an accident leaves Nate in a coma, Dan is left floundering. He wants to find a way to help his best friend find his way back, but he's not sure he can. He's hoping that Nate's younger brother Ollie, a new friend Courtney, and the comic book series they all love will help him find the answer.
Dan Unmasked by Chris Negron is a book about friendship, baseball, comic books, complicated family relationships, and so much more. In this debut novel for Negron, he keeps several story lines moving along seamlessly, sometimes throwing curve balls that keep readers guessing about how things will turn out. But he never loses sight of Dan's coming of age story.
Throughout the long summer as Dan waits for Nate to wake up, he learns a lot about himself and the people around him. Without his best friend as a buffer, he can't help but think about things that have been pushed to the side, including his relationship with his dad and how he's always seen Ollie as an obstacle to get around.
I didn't imagine an author could talk about comics without drawing them, but Negron describes the world of Captain Nexus vividly, and it's easy to fall into the rhythm of his descriptions of the comic as well as how comics in general are made. It all adds up to an engrossing read that is satisfying to the end.
I highly recommend Dan Unmasked for readers of all types ages 9 and above.
The publisher provided me with a copy of this title in exchange for my honest review.