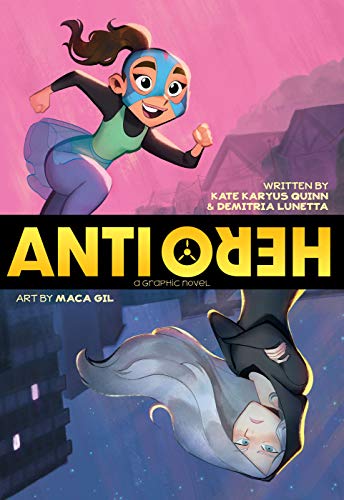 Piper is super powerful, but she doesn't always know how to direct her strength without destroying everything around her. Sloane has a super brain, but when her mom falls ill she resorts to stealing and doing dirty work for her gangster grandfather to pay the bills. The two girls couldn't be more different. But when a strange piece of technology switches their bodies then breaks, they get to know one another in unexpected ways. Working together they must find a way to repair the gadget, switch back and keep the gadget away from Sloane's grandfather.
Antihero (written by Kate Karyus Quinn and Demitria Lunetta with illustrations by Maca Gil) is a graphic novel that introduces two teenaged superheroes and follows along as they forge a friendship and go on their first adventure. It's fun to see them work on costume designs and struggle with what they want to be called. Their challenges with family, friends, and school feel real, and because they switch several times in the story, readers get the opportunity to see their challenges from two different perspectives.
Antihero is fun and fast paced and great for readers aged 8 to 12.
The publisher provided me with a copy of this title in exchange for my honest review.