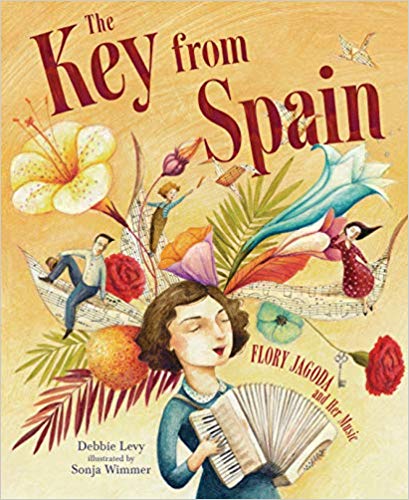 Flory
Jagoda grew up surrounded by music. Her grandparents, aunts, uncles, and
cousins all made music in the small Bosnian town where she was born in the
1920s. They spoke Ladino, the language of the Jews from Spain, spoken by her
ancestors who were exiled from that country centuries before.
When
World War II came, Flory and her parents escaped to a seaside village where
they lived through the Holocaust. Most of her extended family perished in the
war. But Flory kept their music alive, eventually moving to the United States,
where she performed, taught, and wrote Sephardic songs in Ladino.
The Key from Spain: Flory Jagoda and Her Music, a picture book by Debbie Levy, introduces young readers to Jagoda and the history of her people. It's a story of loss, but also a story about the triumph of the human spirit, which can make music even in the darkest times. Illustrations by Sonja Wimmer offer rich depictions of Jagoda's family life and show the joy that music and singing can bring. A page at the back of the book gives biographical information about Jagoda and her famous song, "Ocho Kandelikas," which is sung in Ladino at many Hanukka celebrations around the world. Recommended
for readers aged 5 to 9.
The publisher
provided me with a copy of this title in exchange for my honest review.