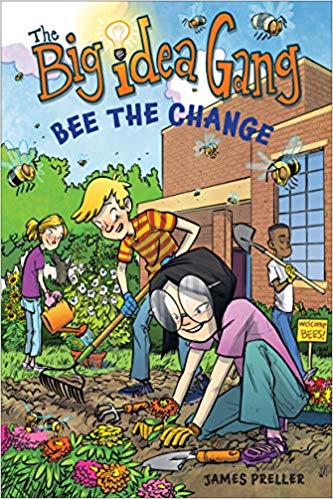 When Lizzy and her friend Kym visit a bee farmer, Ozzie, they discover just how important bees are. They think everyone should know that bees pollinate a lot of the flowers and food crops that make the world more livable. But when their teacher challenges them to figure out what they want others to know and do, they have to dig deep to come up with an idea.
The Big Idea Gang: Bee the Change by James Preller helps kids figure out how to take the things they are excited about and turn them into actions that can educate and motivate others. Working with Lizzy's twin, Connor, and his friend Deon, the girls do some research to find out facts about bees. Then their creativity kicks in to help them develop a plan for a school program and volunteer project that will get lots of people involved in helping bees.
The book does just what it encourages young readers to do: give facts in an interesting way and help people know what to do about what they learn. It's a great primer for how to make a difference on an important issue.
I recommend The Big Idea Gang: Bee the Change for readers aged 6 to 9 and their parents.
The publisher provided me with a copy of this title in exchange for my honest review.