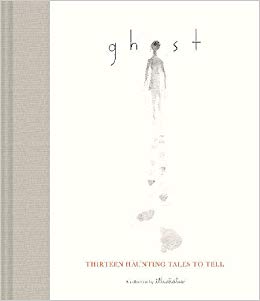 The rumor at Camp Champlain is that the groundskeeper, Old Man Blackwood, knows all the best ghost stories. So two boys head out one night to find his cabin located in marshland at the edge of the property. Their trek takes them through swampy territory and lots of muck, but when Thomas and Skeeter arrive at the cabin exhausted and dirty they are rewarded. Because Old Man Blackwood says, "There are only thirteen true ghost stories in this world. Tonight, I'm gonna tell you them all."
The stories that follow are a collection of creepy tales that make up the book, Ghost: Thirteen Haunting Tales to Tell. A collection by illustratus, which is a group of writers, illustrators, animators, and all-around creatives, the stories in Ghost all focus on children and the unusual situations they face. One girl hears a tapping from inside her mirror, another gets a strange doll that changes in an eerie way. A boy finds himself in a silent forest where the trees are watching him, and another is trapped in an elevator with no buttons. A few tales are told in verse. Illustrations throughout are dark and muted with pops of color to draw readers' attention. The oversize format makes it fun to turn the pages and savor the words and drawings. Readers will also be delighted with a twist at the end.
Ghost is great for readers aged 9 to 12 who like stories that are creepy without being too scary.
The publisher provided me with a copy of this title in exchange for my honest review.