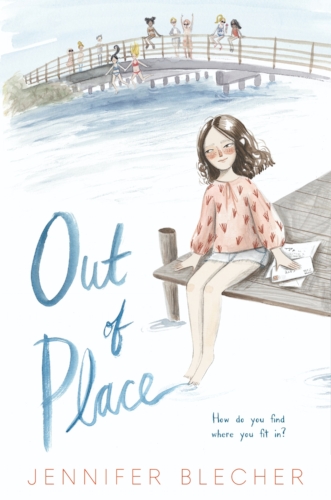 Twelve-year-old Cove doesn't know what she'll do without her best friend, Nina. Nina is the one who helps her ignore the girls who bark at her and call her Rover, like she's a dog. Nina has always understood that Cove's free-spirited mom doesn't believe in cell phones, designer clothes, and makeup. So when Nina announces she's moving to New York City from their home on Martha's Vineyard, Cove just has to find a way to see her. She gets an idea to enter a reality show for kids, but to do so she'll have to lie to her mom and her new friend Jack. When her deception catches up to her, she's not sure how to fix it.
Out of Place by Jennifer Blecher deals with a lot of common issues teens and preteens face on a regular basis. How do you respond to bullies? How do you react to your mom's new boyfriend? What happens when you have no control over major events in your life? How do you know who to trust when you need to confide in someone? Cove ponders all these questions and more after her best friend and emotional lifeline moves away.
As Cove makes new friends and learns to trust others, she begins to see a way forward in the situation she creates as well as with life in general. Out of Place is a great book for any reader and for mother-daughter book clubs with girls aged 8 to 12.
The publisher provided me with a copy of this title in exchange for my honest review.