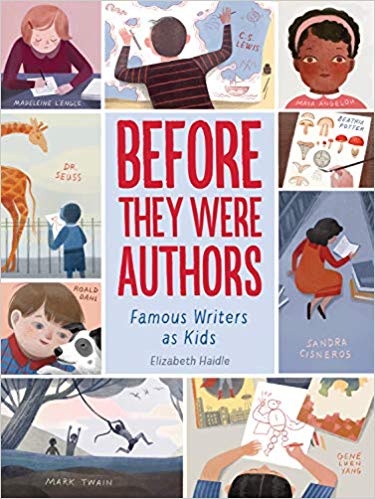 Some of kids' favorite writers, people like Roald Dahl, Dr. Seuss, and Madeleine L'Engle, were also young before growing up to become famous. And learning about the lives of these writers-in-the-making can provide inspiration for children, possibly prompting them to learn more or even to write stories of their own. Before They Were Authors: Famous Writers as Kids by Elizabeth Haidle talks about these budding writers as well as others, profiling 10 in all.
The graphic format combines illustrations with snippets of facts and a timeline of each author's life to show that even well-known people can try and fail many times before becoming successful. For instance, Samuel Clemens, aka Mark Twain, tried many jobs, including being a lumberman, steamboat captain, and silver miner, before he started to write stories that sold. Dr. Seuss's art teacher once told him he would never learn to draw. And Gene Luen Yang self-published his comics, photocopying and stapling them himself, before a publisher offered him a contract.
Readers also learn about Maya Angelou, Sandra Cisneros, J. K. Rowling, Beatrix Potter, and C.S. Lewis. Before They Were Authors is great for ages 8 to 11, but can be appreciated by older readers as well.
The publisher provided me with a copy of this title in exchange for my honest review.