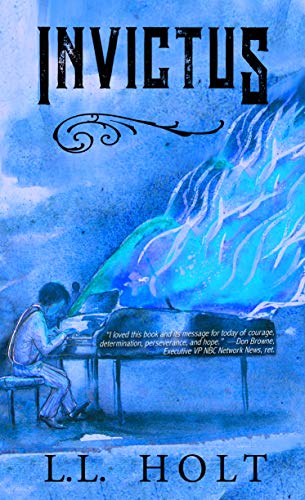 When Beethoven was born he had a dark complexion, darker than anyone in the family. His father, who was prone to drinking and angry outbursts, was suspicious that the baby's mother had not been faithful. But the young Louis had a champion in his grandfather, who nurtured his love for music.  As Louis grew he endured late-night, hours-long piano practices, abuse by his father, and poverty. But he also knew his mother's love and cared for his younger siblings.
Invictus, by L.L. Holt, provides a glimpse into the life of young Beethoven and the times he grew up in. It was a time when great composers were revered and musicians were valued by the church and the government. Those who could afford music lessons for their children paid well, and Beethoven began teaching as soon as he could so he could help his always-cash-strapped family.
Readers also learn about the patrons who helped the young musician and fostered his knowledge of music and composing, individuals without whose help the great composer may not have become so accomplished and known.
Invictus is an interesting look at Beethoven's life, the discrimination he faced because of the color of his skin, how he overcame the prejudiced opinions of many people of the times, and how he excelled despite being abused and bullied. The story will leave readers with a desire to find out more about his rise to greatness. I recommend it for readers aged 14 and up.
The publisher provided me with a copy of this book in exchange for my honest review.