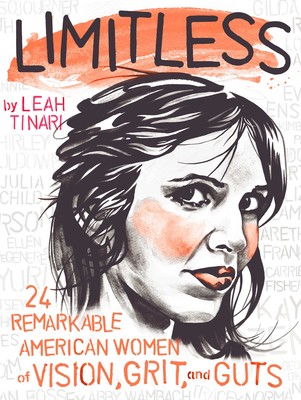 When Leah Tinari completed portraits of the U.S. presidents for her son, she found herself frustrated that all the portraits were of men. That experience, plus her reflection on the life and death of actress Carrie Fisher, inspired her to create 24 portraits of American women who were trailblazers in many ways. Each portrait includes bio information that becomes part of the art. Tinari added quotes either from or about each featured woman to create Limitless: 24 Remarkable American Women of Vision, Grit, and Guts.
In a note at the beginning of the book, Tinari says she wanted to celebrate each woman's vision, uniqueness, and perseverance, and share their achievements with a larger audience. She also wanted to show her son that women could be role models.
Tinari included women who broke ground in music, sports, acting, comedy, politics, fashion, and more. Each portrait is lively, colorful, and compelling. Biographical facts frame each face, which makes it easy to get an overall picture of the personality of the person featured. The oversized format packs visual punch while also making the facts quick to read.
Among the women featured are Louisa May Alcott, Rachel Carson, Shirley Chisholm, Ellen Degeneres, Carrie Fisher, Georgia O'Keefe, Dolly Parton, Gilda Radner, and many more. The book finishes with a brief note of each woman that includes birth and death dates as well as a notation on one powerful moment in each life. I highly recommend Limitless for readers aged 10 and up.
The publisher provided me with a copy of this book in exchange for my honest review.