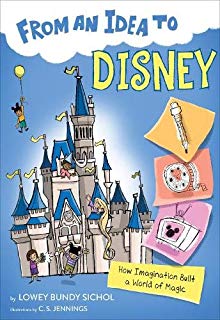 From an Idea to Disney includes quotes from Walt, fun facts, and definitions and explanations of some of the more complicated concepts surrounding the Disney company, including what it means to offer public stock. The story goes past Walt's life to include the current state of the corporation. It's sure to be a hit with young readers who are interested in everything Disney as well as curious about how the world of business works. I recommend it for readers aged 10 to 12.
From an Idea to Disney by Lowey Bundy Sichol provides an interesting look at the story behind the Walt Disney Company, starting with the childhood of its founder. From the time he was young, Walt loved doodling animal cartoons on his classroom chalkboard and performing funny skits in front of his classmates. His journey from young illustrator to Hollywood icon and worldwide recognition included quite a few ups and downs before he found success.
The publisher provided me with a copy of this book in exchange for my honest review.