If you're looking for a great picture book to share with your children about having winter fun in the snow, Nancy Viau's First Snow is a great choice. I have one copy to give away (courtesy of Albert Whitman and Co.) to a reader with a U.S. address. Just leave a comment about your favorite way to have fun in the snow by midnight (PST) on December 17 for a chance to win. Please note: the giveaway is closed. Congratulations to Marion on winning.
Now, here's my review: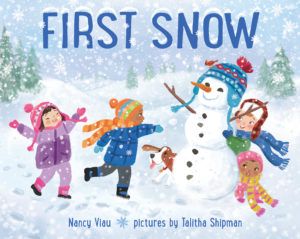 First Snow by Nancy Viau captures the joy of going out to play in the snow. Two children, a brother and sister, run to their window one morning to find the world outside has turned white. Soon they are bundled up in puffy jackets, scarves, mittens, clunky boots, and funky hats. They rush outside to join their friends. Together they make a snowman, ride sleds, have a snowball fight and more. At the end of the day they head home where warm cocoa and cozy pajamas wait.

Beautiful illustrations by Talitha Shipman show children laughing and having a great time. It's the perfect kind of book for parents to read with their children when the weather outside is cold and wintry. In addition to children playing, the scenes include birds eating seeds from a feeder, snowflakes falling, housetops covered in white with smoking chimneys, and a pet dog that plays along. It's all great fun.
The publisher provided me with a copy of this book in exchange for my honest review.