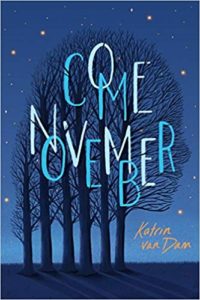 When Rooney starts her senior year of high school she's looking forward to applying to Columbia University, the only school she really wants to attend. But first she has to make it through November, when her mom, younger brother, and other members of the New World Society expect her to leave a climate-changing Earth to start over with them on another planet.
Rooney doesn't buy into the society's propaganda, but her mom's dedication threatens to ruin everything she's dreamed of. Her dad and friend can help, but only if she lets them know her family's true situation.
Come November by Katrin van Dam gives a glimpse of the ramifications when a parent gets drawn in to a kind of cult. Rooney believes the hardest part of her mom's actions is waiting until November, when she's sure her life will get back to normal after her mom stays rooted to the ground instead of leaving Earth. In reality, her troubles multiply.
While Rooney is responsible, working to earn money and make sure there is food in the house, she can't tackle the enormity of the situation on her own. She's not sure she can trust her dad, who left when she was young, and she's having doubts about her best friend. Once she starts opening up to them, she finds the help she needs.
Come November shows the vulnerability that even older teens face when a parent is not responsible in the expected way. It also shows how teens can overcome a reluctance to share embarrassing or traumatic family events so they can get support when they need it. I recommend it for mother-daughter book clubs and all readers aged 14 and up.
The publisher provided me with a copy of this book in exchange for my honest review.