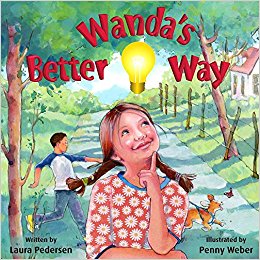 Wanda's Better Way by Laura Pedersen is about a young girl who lets her frustration over problems in her life inspire her to find innovative solutions. A disorganized dance-class dressing area makes Wanda grumpy. But then she has an idea to get everything organized. Wanda wants to help her mom in the garden, but she doesn't like bugs. She does notice the squirrels eating birdseed and comes up with a plan to keep them off the feeder. Wanda wants to help her dad in the kitchen, but she doesn't want to get messy cracking eggs and separating yolks from whites. Her idea to stay clean ends up being a science project at school.
Each time Wanda uses the scientific method to address a problem. Penny Weber's illustrations show Wanda's thought process as she brainstorms solutions. A note at the back explains the scientific method, which starts with observation and goes through several steps to a conclusion, which may include trying again.
The examples along with the methods should provide great inspiration for young readers to try solving their own problems.
The publisher provided me with a copy of this book in exchange for my honest review.