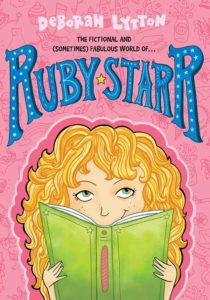 If there's one thing Ruby Starr knows, it's books. She loves to read and has her own book club with her best friends at school. She also knows that when a new character appears on the scene it often means trouble. So when new-student Charlotte arrives, Ruby is pretty sure she's trouble; she just wonders whether she's trouble with a capital "T" or a little "t."
In The Fictional and (Sometimes) Fabulous World of Ruby Starr author Deborah Lytton has created a lovable character with a big imagination. Just like the fiction she loves to read, Ruby often imagines scenes from her life where she rides on dragons, fights a sorceress, and gets to be a hero. She has a close group of friends and a loving family.
So she's surprised and hurt that the new girl has so much power over her friends. Charlotte says she hates to read and even convinces Ruby's friends to turn book club into drama club. Acting on advice from her mom and grandma Ruby reaches out to new friends and even gets to understand more about Charlotte.
Ruby Starr offers lots of issues for mother-daughter book clubs with girls aged 8 to 11 to discuss including navigating changes in long-term friendships, forging new relationships, being true to yourself, recognizing when your own actions make a situation worse, knowing how and when to say "sorry," and more. Plus, anyone who loves to read will certainly love reading about a character who loves to read too.
The author provided me with a copy of this book in exchange for my honest review.
Save