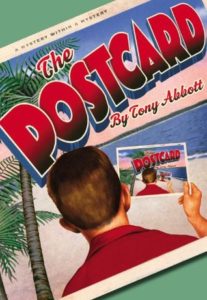 When Jason's grandmother dies, he's not sad, just upset about having to join his dad in Florida to help get her house ready to sell. How could he be sad about losing someone he never met? But once he's there, a mysterious phone call and an old postcard unveil a mystery about his grandma that Jason becomes determined to solve. With the help of a girl from the neighborhood he tracks down clues that will reveal long-ago events with consequences that still resonate.
The Postcard by Tony Abbott is a funny adventure mystery with a touch of melancholy. As Jason works to solve the clues in the postcard, he learns about the grandma he never knew and a bit about his dad too. He also learns about the history of St. Petersburg, the town where his grandma and dad grew up.
As Jason and his friend, Dia, get closer to solving the mystery, they also work to avoid being caught by goons who seem intent on stopping them. The action and danger are intriguing, not frightening, so even sensitive readers aged 9 to 13 should enjoy reading The Postcard.
I got a copy of this title from my Little Free Library and thoroughly enjoyed reading it for review. I recommend it for boys or girls, and it would be a great parent-child book club book.