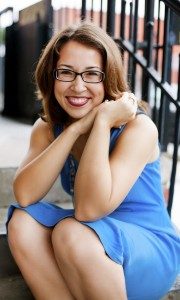 Kristen Simmons is the author of Metaltown, which I reviewed when it came out last fall. Her previous novel, The Glass Arrow, is getting renewed attention these days as it has themes similar to Margaret Attwood's A Handmaid's Tale. Today I'm featuring an interview with Simmons (provided by the author) about The Glass Arrow.
Q: Please introduce us to Aya and share some general background on THE GLASS ARROW.
A: Aya has been one of my favorite characters to write. Born into a world where women are endangered, where girls are condemned as breeders and misogyny is the norm, she's learned to adapt and survive by flying under the radar. With her family – a small group of free women – she hides from those who would see her sold into domestic slavery. Aya is tough: she hunts, fishes, defends her family. When she's captured and brought into captivity at the Garden, a training facility for girls, her life is turned upside down. All she can think about is reconnecting to the people she loves, and reclaiming her freedom, but she has to be smart in order to escape, and that may involve trusting a very unlikely ally.
Q: What inspired you to write THE GLASS ARROW?
A: A few stories on the news, and some social issues that seem to continue rising, but mostly my own experience. The transition into high school was difficult for me, as it is for many people. Before that time, I remember feeling like I could do anything, be anyone. I was valued because I was creative, and interesting, and smart, but once I stepped foot into high school, things changed. It didn't matter what kind of person I was; all that was important was if I was wearing the right clothes, or had my hair done the right way. If I was pretty. Boys judged us based on a star system – "She's an eight," they'd say, or "Her face is a nine, but the rest of her is a four." And worse, girls began sharing that same judgment, trying to raise these numbers to be cool, and popular. They'd compare themselves against each other, make it a competition. This, as I quickly learned, was what it meant to be a young woman.
That experience transformed into Aya's existence – her journey from the freedom of the mountains, where she was important for so many reasons, to the Garden, where she is dressed up, and taught to be, above all things, attractive. Where she has to compete against other girls for votes come auction day. On that auction stage, Aya's given a star rating based on her looks, which is what her potential buyers will use to determine their bidding. It bears a direct correlation to my life as a teenager – to the lives of many teenagers.
When it all comes down to it, I wanted to write a story where worth is determined by so much more than the value other people place on your body.
Q: A lot has happened in the "real world" since the novel first came out in 2015. Does it feel surreal looking back at the book now?
A: Ah, I wish it did! Unfortunately, I feel like a lot of these issues are still very, scarily relevant, not just for young women, but all people. It seems like every time I see the news there is another incident of someone being measured by their looks rather than their internal worth, of women being degraded and disrespected, and of advantage being taken of someone's body and mind. It frightens me that these issues persist, but I never claim that THE GLASS ARROW was a look into the future. To me, it was always a way of processing the present.
Q: Congratulations for the surge of attention the book is receiving, thanks to things like the Hulu adaptation of THE HANDMAID'S TALE. What do you want readers to take with them after reading THE GLASS ARROW?
A: Thank you very much! I am delighted by the mention, and honored to be included in the same thought as the great HANDMAID'S TALE. If people do find their way to my book as a response, I hope they take away that they are so much more important than the sometimes superficial and careless values other people assign to them. As Aya says in the book, I hope they know that there are not enough stars in the night sky to measure their worth.
Q: Besides other classics like Margaret Atwood's book, do you have any recommendations for readers wanting to explore more dystopian fiction and speculative fiction works?
A: How about METALTOWN by Kristen Simmons? That's a great dystopian! Or the ARTICLE 5 series, about a world where the Bill of Rights has been replaced by moral law… Ok, ok, I'm sorry. That was shameless. I always recommend LITTLE BROTHER by Cory Doctorow, THE PASSAGE by Justin Cronin, Marie Lu's Legend series, and of course, THE ROAD by Cormac McCarthy. Those are all thrilling, and excellent looks both at the present, and the future.
Q: What are you working on now, and when can readers expect to see your next book?
A: I have two books coming out in 2018, and can't wait to share both of them. PACIFICA will be released March 6, 2018, and is about a world after the polar ice caps have melted, and a pirate girl and the son of the president find themselves in the middle of a building civil war. It's a story largely informed my great grandmother's internment in World War II. In the fall, I'll have a new series starting. THE PRICE OF ADMISSION, first in the Valhalla Academy books, is about a girl accepted into an elite boarding school for con artists. I hope readers love them both!
Q: Where can readers find you online?
A: I'm always available through social media – Twitter and Instagram at @kris10writes, and Facebook at Author.KristenSimmons. I'd love to hear from you!
Thanks for taking the time to read this, and remember, you're worth more than all the stars in the night sky.
About the Book: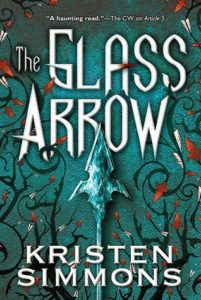 Once there was a time when men and women lived as equals, when girls were valued, and women could belong only to themselves. But that was ten generations ago. Now women are property, to be sold and owned and bred, while a strict census keeps their numbers manageable and under control. The best any girl can hope for is to end up as some man's forever wife, but most are simply sold and resold until they're all used up.
Only in the wilderness, away from the city, can true freedom be found. Aya has spent her whole life in the mountains, looking out for her family and hiding from the world, until the day the Trackers finally catch her.
Stolen from her home, and being groomed for auction, Aya is desperate to escape her fate and return to her family, but her only allies are a loyal wolf she's raised from a pup and a strange mute boy who may be her best hope for freedom . . . if she can truly trust him.
About the Author
Kristen Simmons is the author of the ARTICLE 5 series (ARTICLE 5, BREAKING POINT, and THREE), THE GLASS ARROW, METALTOWN, PACIFICA (coming March 2018 from Tor Teen), and THE PRICE OF ADMISSION (coming Fall 2018 from Tor Teen). She has a master's degree in social work and loves red velvet cupcakes. She lives with her family in Cincinnati, Ohio.
Links
Website: http://kristensimmonsbooks.com/
Facebook: https://www.facebook.com/author.kristensimmons/
Twitter: https://twitter.com/kris10writes
Instagram: https://www.instagram.com/kris10writes