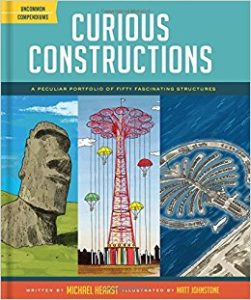 Throughout the world you can find strange structures made by man and nature. Take, for example, termite mounds. If you compare the size of termites to the size of humans you'd find that the mounds are equivalent in height to humans building a ___ story building. Pretty imressive.
Or, in an example of human engineering, look at the Arecibo Observatory in Arecibo, Puerto Rico. Built in the 1950s, it was designed to pick up signals from objects in outer space. It counts among its big discoveries the first planets outside our solar system.
These objects and 48 more are outlined in Michael Hearst's Curious Constructions: A Peculiar Portfolio of Fifty Fascinating Structures. Part of the Uncommon Compendiums series, Curious Constructions is sure to appeal to young readers curious about science, engineering, and the strange workings of both man and nature.
Each curious construction is highlighted on a two-page spread, with illustrations by Mat Johnstone depicting what each structure looks like on one page and Hearst's description with small illustrations on the other. Hearst's tone is lighthearted, making the facts easy to understand and digest. In addition to technical information, Hearst also sprinkles the pages with quizzes that contain silly answers alongside real ones. Kids are sure to appreciate the nod to real-life quizzes they take in school, especially since these tests have no negative consequences.
Hearst also uses other things kids can relate to as a way to provide more info. For instance, on the page about Biosphere 2, an experimental community meant to help humans learn to live on other planets, he talks about one scientist's efforts to create everything she needed to make a pizza.
Kids should love the oversize-format of Curious Constructions, which makes it easy to spot on a bookshelf and pull out for review of specific structures again and again. I recommend it for readers aged 9 to 13.
The publisher provided me with a copy of this book in exchange for my honest review.
Save